I don't "have a thing" for chickens (unlike some people I know) and I do not find a Rooster particularly attractive. But, when I saw this beautiful Rooster print by Fiona Hollis Carney at FairPrice Antique last week when I was giving my talk there, I simply could not resist. I had found "my" Rooster! Isn't he just gorgeous?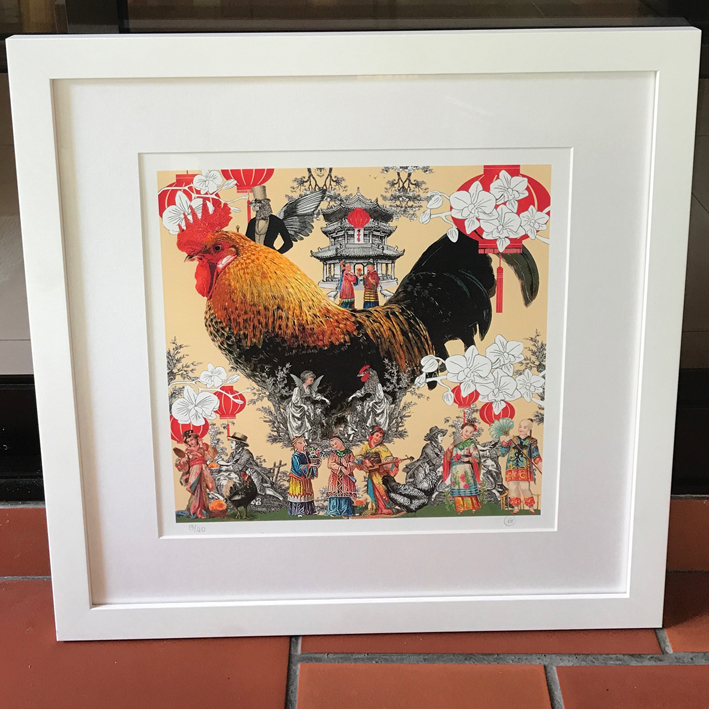 According to feng shui wisdom, each zodiac animal has one secret friend and two allies, and by activating these you will attract helpful friends and supporters into your life. Where would be we without our trusted friends and reliable relationships? I must have done something right even before I knew about feng shui, for I was always blessed with helpful people and mentors in my life. But when I saw that Rooster I just had to bring him home because I am a Dragon and he is my secret friend!
Activating your secret friend can be helpful in many situations, for example:
Helping children settle in a new school.
Helping children (and adults alike!) make new friends.
Gain support at the workplace.
Bring that helpful person into your life who can boost your career or open new doors for you.
The easiest way to activate your secret friend is to hang an image or place a figure of your secret friend in your own zodiac location. Alternatively, you can carry your secret friend as an amulet with you or place him on your desk (do not carry your own animal sign). There are also amulets of the three allies together.
The secret friends are as follows:
Rooster & Dragon | Monkey & Snake | Sheep & Horse | Rabbit & Dog | Tiger & Pig | Ox & Rat
The three allies are:
Rat, Dragon & Monkey | Ox, Snake & Rooster | Horse, Dog & Tiger | Sheep, Pig & Rabbit
Often you will find that two children who get on particulary well have this zodiac connection. If you have the option, it would be wise to look for the "right" animal sign when choosing a (new) business partner. And if you are lucky enough to be married to your secret friend or one of your zodiac allies, then there will be no stopping you!
I recently had a friend asking me for advice because her husband was having an unpleasant situation at work and it was bothering him. Somebody in his office was constantly creating trouble for him and his team. My first suggestion was that husband should place a fierce-looking rooster on his work desk to keep the pecking and back-stabbing under control. My second advice was to activate his secret friend, so he would find support. Incidentally, my friend is an artist and two hours later she sent me an image of a Tiger she had painted in the meantime (hubby is a Pig) and asked if that was OK. It was perfect! So she hung it in the NW (the location of the Pig) in her home and the following evening I received an excited message from her, saying the Tiger worked already! Her husband had come home from work a different person, he was very happy and optimistic, saying his boss was now backing him 100%. What excellent news!
The power of feng shui.
2 October 2017