8th September – 7th October 2022
The No 4 Star moves into the CENTRE and eases the negative energy by bringing new ideas and new inspiration. New opportunities will come up, offering a chance for new adventures. The No 4 Star also brings love and romance, and relationships in general will improve, benefitting everyone. It is a time to enjoy the company of friends and family and to build new relationships, both personal and professional.
The NORTH, SOUTH, WEST and SW also enjoy auspicious stars this month, while the SE, EAST, NE and NW need to be kept quiet. The matriarchs are luckier than the patriarchs, as they enjoy the benefits of the No 1 Victory Star, while the patriarchs suffer from the No 5 Misfortune Star.
Completion luck in the NORTH is excellent news for those born in the Year of the Rat and of course those of you who spend a lot of time in the NORTH of their home.
The Flying Stars chart below shows nine fields, each containing two numbers. The big number on the left of each field represents the annual star (red = afflictive, black = auspicious) and the smaller number on the right represents the current monthly star. These smaller numbers change every month and therefore create new energy patterns in your home and office.
To apply these monthly stars successfully, you need to map out the compass sectors in your home or office. If you are not yet familiar with the compass orientations of your home, I recommend you take two compass readings as follows:
one compass reading from your main door, looking out, and
another reading from the center of your living room, looking towards your balcony or picture window
Please take particular note of the location of your main entrance door and your master bedroom, as the stars in those sectors will affect you the most. Obviously, for those of you who are working from home, the location of your home office/work station at home is also important.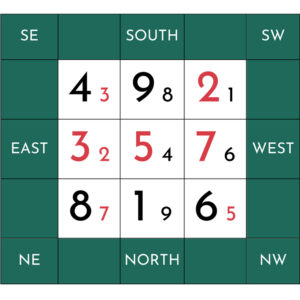 SOUTHEAST (4/3)
The quarrelsome No 3 Star flies into the SE, causing tension, aggravation and possibly also a romantic scandal. Heartache will likely affect females more than males. There is excessive wood energy, which leads to emotional stress due to relationship problems and aggression.
To calm the conflict energies, you can display a Magical Cosmic Apple or use red accessories, such as a red picture or a red rug. Alternatively, you can hang a Red Facetted Crystal Hanging in your SE window. Fire energy in the form of a bright light will also help.
Having said that, the positive energy of the annual No 4 Star is still strong and will help bring success in academic pursuits. Students, writers and people in literary/communications professions are encouraged to spend time in the SE sector if they can. In addition, students can display a Dragon Carp with 3-legged Toad in this area or place a Dragon Carp Amulet on their study desk to activate their exam luck. A Talent Star Activator keychain will be helpful for those who wish to boost their creativity and success luck.
SOUTH (9/8)
The monthly No 8 Wealth Star flies into the SOUTH, promising wonderful money luck for those staying in the SOUTH room as well as people born in the Year of the Horse. There will be improved business luck and new opportunities. Relationships of a romantic nature will also blossom, and it will be a good time to take the relationship to the next level.
To activate your financial luck, you can display the Activating Prosperity Tree or an Asset Wealth Bull in your SOUTH or in the SOUTH of your office.
Please look out though, as the combination of stars can also cause arguments between the young and older family members. Placing a Gold Apple with Peace Symbol or a Happy Laughing Buddha in this area will help minimize the conflicts.
SOUTHWEST (2/1)
New opportunities come into the SW thanks to the No 1 Victory Star. Those staying here can also look forward to literary luck or career advancement, particularly benefitting the matriarchs and those born in the Years of the Sheep or Monkey.
To activate for career luck, you can place the New Victory Banner or Sky Horse with Flag of Victory in your SW and carry the Sky Horse amulet.
Students wishing to activate their study luck can display a Wisdom Kuan Kung Mini Plaque or carry a Dragon Carp amulet.
Please remember to keep the annual Illness Star under control with a metal Wu Lou placed in this sector. If you spend a lot of time in the SW, you might want to watch your diet and put a stop to unhealthy habits. Carrying an Anti-Illness Amulet Card will also help to ward off the illness energy.
EAST (3/2)
The monthly No 2 Illness Star joins the aggressive No 3 Star, which will lead to disagreements and misunderstandings in all your relationships. This unpleasant affliction can be cured with the Magical Cosmic Apple or a Red Crystal Apple displayed in the EAST. If you feel you are affected by this negative energy, you can also carry a Magical Cosmic Apple amulet, especially if you are born in the Year of the Rabbit.
Unfortunately, the elements of the two stars clash too, which will add to the unpleasantness. Marriages and close relationships will suffer from the increased pressure. You can display a Marriage Lock in this area to protect your marriage/relationships and carry a Four Friends Talisman keychain.
Those involved in high-profile politics will feel the increased pressure too and are likely to have a bumpy ride.
Do look out for your health and display a metal Wu Lou on your bedside table if your bedroom is in the EAST.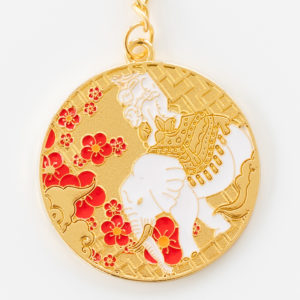 CENTRE (5/4)
As mentioned earlier, the luck of the CENTRE sector improves in the areas of love & romance, creativity, and examination luck. Students and writers will notice an increase in their productivity and creativity.
If you would like to enhance the positive energy of the No 4 Star, you can display the Dragon Carp with 3-legged Toad or a Manjushri Wisdom Pagoda here.
The Supremacy of Heaven Energy Plate is a wonderful cure for the annual No 5 Star, which will bring wealth and business luck at the same time.
Young couples will feel their romance blossom. You can strengthen the loving energy with the Peach Blossom Music Tree or a Double Happiness Tassel. The CENTRE area is also a perfect place for the gorgeous "Pink Peony" artwork by Louise Hill this month.
WEST (7/6)
The luck in the WEST greatly improves thanks to the No 6 Heaven Star, bringing good fortune to everyone who spends a lot of time here. If you find yourself in a competitive situation, you can move quickly to beat the competition. There is no need to worry about moving too fast, trust your instincts and don't overthink things. Remember there is an unseen hand guiding you to success.
To activate this fabulous luck, you can hang a Jade Emperor Windchime or a Heavenly Star Windchime in your WEST area. A Golden Earth Dragon Tassel would be another excellent option.
There is an excessive amount of metal energy though in the WEST this month, which can lead to violence and conflict. Please keep sharp objects (including knives) away from this area to avoid unnecessary accidents. If this is a concern, you can wear the Self-protection Medallion to safeguard against physical injury.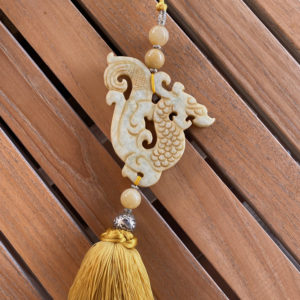 NORTHEAST (8/7)
If you spend a lot of time in the NE, there is a high chance of betrayal, loss or unexpected expenses due to the monthly No 7 Star flying in. If your main entrance is in this sector, please make sure it is well locked at night and check your home security. Make sure you keep your money and jewellery in a safe place.
Display a pair of Armoured Elephant & Rhino in your NE to keep the energy of loss under control. For smaller NE spaces, the Anti-Burglary Lumi Tile is also a good option. If you are born in the Year of the Ox or Tiger or have your (home) office in the NE, you can also carry an Anti-Cheating Amulet with Kuan Kung to protect yourself from being cheated.
Young men are encouraged to carry a Night Spot Protection Talisman for protection against harm.
If you spend a lot of time in the NE – be warned, as you might lose money in the next few weeks. Placing a pair of Fu Dogs flanking your entrance is always good, especially in times like these.
We still have the annual Wealth Star in the NE though and it is well worth enhancing this with a wealth symbol.
NORTH (1/9)
The monthly No 9 Star strengthens the annual No 1 Victory Star, which is excellent news. In addition, the two stars form the "Sum of Ten", which creates powerful completion luck and in this case also brings career advancement and financial gains. There is also a great boost in business luck for those staying in the NORTH.
To strengthen and benefit from this wonderful energy you can display a Heavenly Completion Horse in this area and carry a Sum-of-Ten amulet.
However, the elements of the two stars clash, which could lead to health problems affecting the stomach. Avoid eating late suppers and keep early nights. It is not good for your health to eat too much good food and staying out too late. If the above is a concern, you can place a Wu Lou with Joyous Cranes or a metal Wu Lou on your bedside table.
NORTHWEST (6/5)
The good luck of the NW takes a turn this month due to the No 5 Misfortune Star flying in, bringing an increased danger of illness and misfortune. This will particularly affect the patriarchs of the household and people in leading positions. Those staying in the NW should take special care of their health, as illness might affect their lungs or nose.
For protection, display a Heart Sutra Pagoda in your NW and carry a Heart Sutra Pagoda amulet. If your bedroom is located in the NW, place a metal Wu Lou on your bedside table.
Avoid risky investments, as the Misfortune Star could also cause financial losses with a wide range of consequences, including anxiety, mental stress and emotional trauma.
Source: World of Feng Shui
28 August 2022